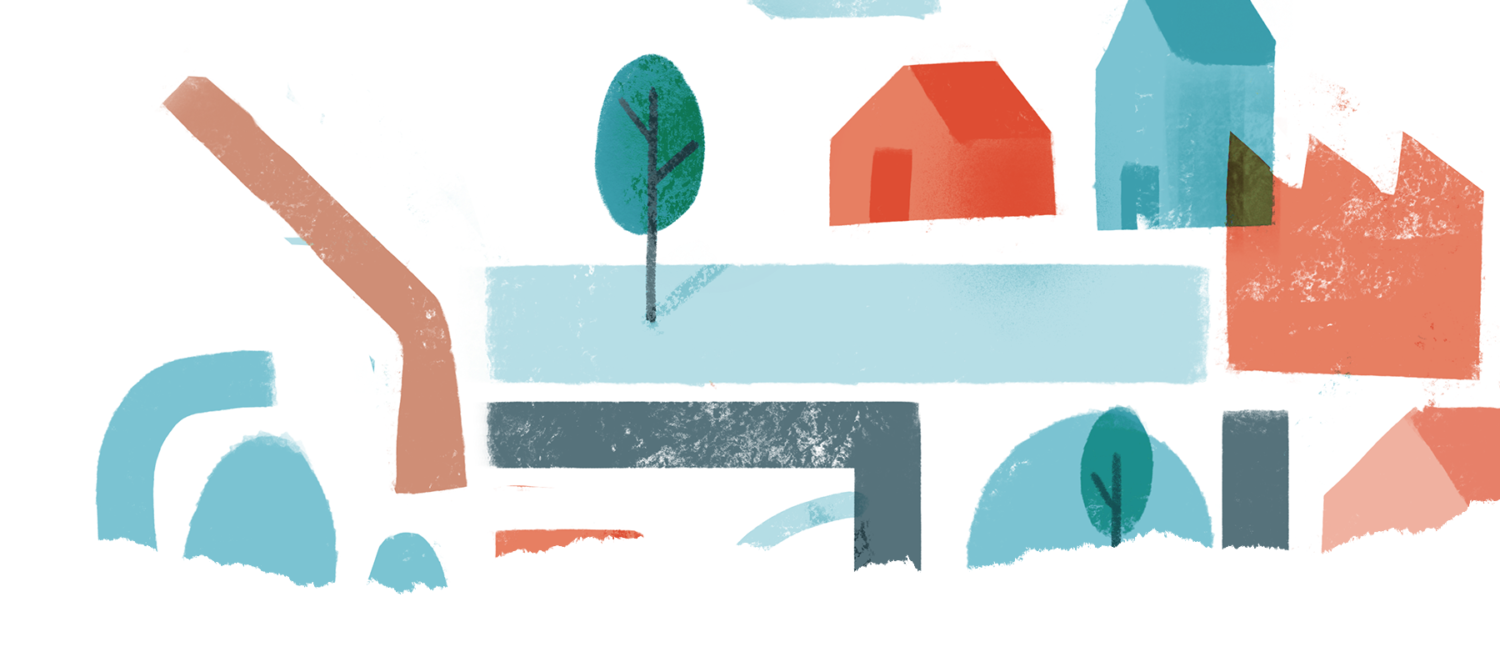 Mallacoota
By Bruce Pascoe
Edited by Sophie Cunningham
---
Her back hunched as she stepped gingerly through the slip of water on the sandbar. Tea tree tannin had steeped the river in amber and you couldn't help admiring the dark ginger fox on a ground of golden liquor.
Why did I think of you when I saw the fox hunting mullet in the river shallows? She must have been engrossed in her work because her coat was damp and she'd ruffled it into feathers to protect herself from the cold. Her back hunched as she stepped gingerly through the slip of water on the sandbar. Tea tree tannin had steeped the river in amber and you couldn't help admiring the dark ginger fox on a ground of golden liquor.
The only awkward posture in the scene was the way she hunched her back, whether as reaction to the cold or coiled to pounce on fish I couldn't tell. She didn't seem pleased by my sudden appearance but refused to look at me directly. The insouciance of vixens.
She would endure my presence simply because she was unwilling to waste the investment in her hunt. I was hunting too and knew how she felt, the intensity, the coiled energy, the hope.
I felt guilty for having imposed on her radiant quest. I passed on the opposite side of the river guiding the boat through the shallow channel that hugged the melaleucas and wattles growing on the bank. I looked back at her when I could take my eye from the navigation, fascinated by her high stepping stealth.
And I thought of you. Once again it took me days to return your call and you probably think I'm rude or neglectful, but I try to avoid the telephone as you know and my attention is so thoroughly in debt to the river, the insistence of its life.
The mist was thick at dawn. It hung like the gauze curtains you see in the back rooms of some old hotels where any welcome is reserved for the public areas. The old forgotten rooms where guests would stay in more prosperous times are left to decay, to shred, to dream old tattered dreams. The river mist wreathed in frayed drifts like that grey gauze of disappointment.
I had to peer into those old shabby rooms to find the river banks and the landmarks I used to follow the channel in the sandy river's course. At last I could make out old Geoff's fence. He shot himself last year. I wish he hadn't. Took it bad when he had to sell the farm. The town blamed her but I'd seen them only a month before he died. Fishing together. They seemed happy. But how can you tell? Was the fox insouciant or careless? I chose the pride of insouciance because I'm just an observer, as distant from the true workings of a fox's brain as I am from the motivations of most humans. Just an intrigued observer. No other gift than curiosity.
I loved Geoff. When I returned prodigal to the rivers after twenty five years away Geoff was delighted to see me and I clung to his welcome. He sat me down to remind me of a cricket game we'd played together thirty two years ago.
Geoff loved his cricket and loved talking about his two game career. In Geoff's version of events his contribution was vivid, not overly embellished, but his ordinariness was central to the play. It was a great way to be welcomed.
I wish you hadn't done it Geoff. I can't bear to look at your hillsides now. Without you.
Then you pass Byron's farm. He was a city man, a nerve nut, nose eroded by alcohol. He decided to become a market gardener but the tomato wilt got him. Really it was the absence of his wife. She couldn't stand the loneliness of the river, the dawn mists parting reluctantly like the shrouds in a funeral parlour. Byron couldn't explain its beauty and she couldn't bear the awful screaming of the yellow bellied glider, the haunting white ghostliness of the masked owl. And its call; like death itself.
Byron grieved and so, after another year of battling the wilt, he left the hothouses and went back to the suburbs. For love.
And the next farm, on the bluff above Byron's empty gardens, belongs to a Samoan abalone diver. His brother was shot by a gay man. The surviving brother played one game of cricket just so he could use his dead brother's bat. Geoff would have loved it. So did I. I taught both brothers. Wild men of the sea. Lovely lost Samoans.
The mist still obscured the land marks and I peered through its veils to find the sandy beach which marked a treacherous bend. A mate saved a kid's life here when he cut the fishing line tangled around a toddler's leg. The other end was attached to an 80 lb mulloway heading for Bass Strait. That toddler's father later sold the river bank farm to Phillip, a man who made his fortune recovering swamplands in the green and environmental eighties. The river community hated him for allowing the salt water to resume its old course across the paddocks. Old Geoff didn't like it either and sawed off the two giant ironbark gateposts which Phillip used to block the communal roadway. Well Geoff thought it was communal, Phillip thought it was his land. Geoff sawed his posts off and told me of his act of defiance with enormous glee. He even rubbed his hands together as he retold the story as if he was in some rural cartoon.
Now Geoff is dead and Phillip is ill but it was Phillip who took in Geoff's ancient blind terrier, Mate, after Geoff died. Funny world, peculiar humanity.
Phillip is combative but he would say assertive of his rights. He doesn't get along with the abalone diver across the river. Being a fisherman Dean likes fast boats even though one of them is a yacht.
I love seeing that yacht on the river. Phillip sees a fast boat.
And their upstream neighbour is Marion. Some of Marion's partners weren't evidence of her ability to make good choices. One of her men set alight to himself after an argument as I happened to be leaving the hotel adjoining Marion's house. I saw all Marion's kids, including one I didn't know she had, vaulting the fence. I taught them all except the one that'd escaped education completely. No homework handed in tomorrow I thought as the house burnt down.
But she was a great person, Marion, full of life and cheek. I was surprised when she moved in with Col but on more thorough consideration it was her most inspired choice.
Col was a Jackson of Jackson's Bridge and his family had held the farm since it was first cleared. Some say the Jackson's have Aboriginal blood but that claim that could be levelled at most of the district families who can trace their inheritance back three or four generations. It's a lonely river. My great grandfather got lonely, but on a different river.
Col played in those golden cricket games that were so vivid in Geoff's memory. But Col was even worse than Geoff; although he was the best horseman in East Gippsland. Col indulged his cattle's roaming personalities just so he had an excuse to ride through the mountains looking for them. He never built a fence in his life, preferring to ride into New South Wales or up into the Alps to retrieve his esteemed line of cross bred duffers. Ayrshire being amongst the sires. My Ayrshire, my broken fence.
Thanks Col.
If you're chasing your cattle, and those of farmers less attentive to stock control, across a couple of state borders you need good dogs.
Col had about thirty mixed bred border collie-kelpie-dingo beagles. Bad dogs. Savage, independent, bloody near feral mongrels. Col's cattle breeding techniques were also applied to the refinement of his cattle dogs' pedigree.
I was milking one misty morning. That old river mist is a river in itself and we got it in all seasons. Even as high up as my farm on the Maramingo, a wilder tributary of the wild Jinnor just before it joins the Wallagaraugh. It was breathtaking to watch the stealthy grey curtain steal entire mountains from your gaze only to reveal them a moment later with a flick of the magician's wrist.
My jersey, Milly, was a darling cow and let me press my face into her loin while I milked her. We had an agreement about the amount of milk I could take before she'd stamp her foot to remind me the rest was for her calf.
But this particular morning of funereal mist she swung her head to look down into the valley long before we'd reached the point of agreed shares. I peered beneath her steaming belly, and could see these mongrel wild dogs. Two, three, six, Jesus, nine … Col. He must have been doing one of his interstate stocktaking visits, or bringing his cattle on a raid to my Ayrshire bull. Thanks Col.
On an earlier occasion I docked my old open clinker on Col's beach beside the bridge so I could remove the Simplex engine and take it to be repaired by Larry Blair. But don't start me on the Blairs. When I turned up to re-install the motor the Nadgee was no longer there. She was called Nadgee by Doug Barrow snr, who sailed her down the coast from Narooma and surfed her across the bar into the Mallacoota lakes. The Barrows were one of those wild early families and their forefathers had overlanded from Sydney across the Alps to Bombala in 1832. I bought a bed off old Doug once and on the back of the bedhead was scrawled in chalk, Barrow, Bombala, 1834. It's an ugly bed but I kept it for the chalk of Australian history. But don't start me on the Barrows either.
The important thing was that the Nadgee was gone. I enquired of Col about the boat's location. 'Gawn,' he said, 'in the flood.' A week previous we'd had two inches of rain but not enough to take a styrofoam cup off the bank. I wonder how much Col's riverside enterprises benefited from the disappearance of the clinker.
Did I say I wasn't going to start on the Blairs? Well you can't talk about the river without them. When Larry Blair's wife, May, left him she took up residence with a very peculiar man in a very peculiar caravan on the opposite bank of the river to where she was born as a member of the Jackson's of Jackson's Bridge. She said Larry was mean and had individualised the meaning of the marriage contract. The caravan was her way of returning to the seat of the family estate.
Larry was an old fisherman turned boat hire magnate and lived in a broken wooden house on a green bank of the lower lake. He knew everything there was to know about the Simplex engine. He could fix the magneto by putting it beside his wood stove. Worked a treat. Blocked fuel lines, seized pistons, he had a rural solution for each problem. Except marriage.
He looked most of all like Steptoe and had a wheedling little voice and licked his lips and hunched his shoulders whenever he spoke so that it felt like a conspiracy whenever he talked to you about the weather or a cow with mastitis. I think May was right.
The German baker said that Larry would never have the right change for his bread; he'd always be a penny or threepence short. The baker kept a book. Larry never paid. The baker never forgot. May was right.
Above Jackson's Bridge old Simmonds had a farm where he boiled down wallabies and dead chooks for his pigs. Local women used to have Christmas parties on the farm where they bounced around naked, so it was rumoured. Everybody has to let her hair down once in a while.
And above the captain's block was old Burgess. I never knew him, only saw him once in an open boat he was rowing upstream with the crudest pair of mismatched oars I'd ever seen.
Burgess would never go into town. He'd leave anonymous parcels of fish on people's back step at dawn and they'd leave groceries and grog on his. The secret transactions of the unseen. Fair proportion of grog in the groceries.
When I came as a teacher in the 70's all the river people told me the original teacher used to row a long skiff as far upstream as Burgesses' to teach all the river kids. This was long before Burgess arrived of course but that teacher's students were the Jacksons and Blairs and Barrows and Donaldsons. Wild kids. No shoes, no interest, but the best ship handlers on the east coast of the continent.
Across the river from Burgess was Bobby Nicholls who married a local Yuin woman. I regret selling my tractor to Bobby. I bought it from Robert Arnot's father who farmed on the New South Wales end of the river, above the highway. The Arnots were an old, old family from Timbilica and the tractor I bought was the old man's first tractor and he parted with it like a man who knew his life as a real man was over, from now on he'd be a man who didn't farm.
I remember harvesting hay with him a year before he handed the farm on to his son. It was a hot day in December and we using ancient steel tined hay forks to pitch mown hay onto a wooden cart which the old man towed behind the tractor to a shed with slatted walls and floor. Old Man Arnot's father had built that shed to dry corn; one of the first farm structures built in the entire district. If you didn't count the thatched houses of Aborigines. Which, of course, no-one did. We pitched hay all day, the old man and I, in grim silence. He was one of those quiet country gentlemen, but that was not the cause of his silence; he just resented that I was young and he was old. He died.
The tractor I bought was a hundred years more recent than the shed but it was still old. A Fordson Major petrol-kero model. You had to start it with kerosene before switching over to petrol. It was a beast, could pull anything, drag the stumps of old trees straight out of the ground as if they were pensioners' teeth. I loved it. My daughter did too and insisted on riding behind me. No roll bar, not many brakes and when I think of that little red haired girl riding between those giant wheels I shudder. Tractors and wild river children.
Anyway I sold it to Bobby Nicholls.
In a hurry. I'd split up with the little girl's mother and the farm had to be sold. Probably the reason why Geoff killed himself. No regard for himself without the farm.
But what Bobby Nicholls did to that tractor really upset Robert, old Robert Arnot's son, because it had been his father's pride and joy. The Arnots arrived in Australia to go whaling with Ben Boyd. They're proud of their history and prouder of their tractors.
Bobby Nicholls was a humourless fundamentalist Christian and he oxy torched three inches off each side of the tractor's grader blade so it would fit onto his trailer. The act of a heathen Robert believed.
And the Arnots are family of mine. My son-in-law's grandmother is Jean Arnot of Wangarabell. How can such remote acts of chance occur on such a lonely river?
At the top of the river on the day of the fox I caught my fish from a snag I'd last fished six years earlier with Robert's brother-in-law, Kevin, two weeks before he died of a heart attack.
I can't fish that river now without thinking of Kevin, or Geoff, or my tractor, or Larry Blair's funny way of talking.
And I thought of you, mate, when I saw the fox, not because you remind me of a fox, but because as soon as I saw such a strange thing I wondered who would be interested in the story. Do all people do that as they watch an event unfold, or is it just us, the storytellers?
Coming back down the river I kept a lookout for the fox and she was still there, hunkered down on the sandspit. As I passed the first time I had noticed a plover sitting on eggs on the downstream end of the sand island and thought it typical fox behaviour to sneak out onto the sand and outlast the plover's indignation.
Two dotterels were running backward and forwards just metres from the fox's nose desperate to distract attention from their young.
I watched the fox to see if it would react.  I cast a line to make the sinker splash as close to the animal as I could manage. I saw the ears twitch to the sound but it showed no other reaction. Cunning bastard, I thought, pretending it's not there. Typical fox.
So I stepped out of my boat, Nadgee III, and waded to the island. I saw the ears rotate toward the sound of my steps.
There was a good boondi on the sand and I picked it up, not willing to be attacked by a cornered fox. It got to its feet and faced me, swaying slightly before it tottered and almost fell, still trying to look defiant and strong. But it wasn't strong, it was a sick fox.
If it was fishing for mullet it was the act of a desperate animal not the invention of artful adaption. The expenditure of energy in becoming wet and cold could hardly justify the potential catch.
No, this was just a sick fox, probably bleeding to death from ingesting a fox bait which are almost pure warfarin, the haemorrhaging agent with which we poison rats.
The golden eyes could barely focus but she knew my intent. She avoided the first swing of the club by the merest turn of her head but I collected it with the returning pendulum and cracked that fine skull. Blood gushed from its ears and nose, the warfarin was already well into its work.
I returned to my boat burdened with sorrow. I'd misjudged her actions with my prejudice, even inclining toward admiration for fox cunning and innovation instead of reading her actions for what they were, dying. We're meant to kill foxes but are we meant to cause them such slow agony? And her teats were hanging too. Was there more agony to come?
I'm sorry not to visit you more, old mate, sorry to be tardy in the mere return of a phone call but the river is such a demanding home. She insists you bear witness.
As you have just done.