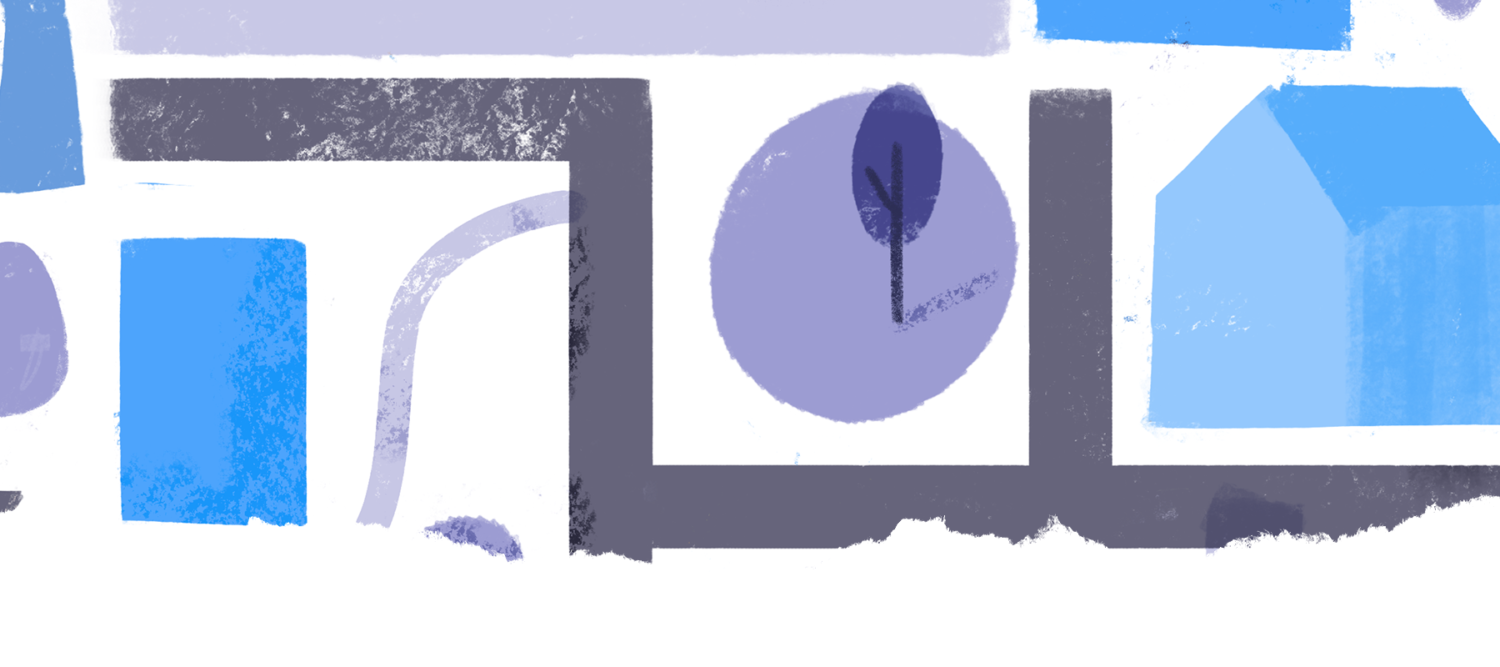 Birchip
By Kelly Fleidner
Edited by Elizabeth Flux
---
It appeared one day in 1991 and some people will tell you that it happened overnight, like magic. Others will say that it was commissioned by the Birchip Promotion and Development Committee and unveiled by Councillor John, "…or was it Josh, or maybe even Julie". Either way, it ended up taking pride of place in the centre of the wide nature stripe running down the middle of Cunningham Avenue and it was called Big Red 'The Mallee Bull', and it is exactly that – a statue of a big bull in the centre of Birchip, 300kms North of Melbourne.
Big Red is painted a burnt browny-red, sienna all over except for two tufts of white on his forehead and throat; his white, round, bulging eyes; a white, swaying, switch of tail; his two white horns; four big, black hooves; and thick, black outlines around his nostrils and mouth. Depending on the time of year you visit, Big Red can be in any state: his paint fading and cracked; his plaster exterior fractured and/or patched with putty; or, a piece of horn or fetlock broken off. However – and thank god – the maintenance of Big Red is of utmost priority for the good people of Birchip, so for a majority of the year, you'll find him as though he were brand-new. Flash as. Indeed, many an eager tourist in a bid to obtain the perfect photographic trophy of Big Red has climbed upon his frame only to be given the sternest of talkings-to by one or more local guardians protecting and maintaining Big Red's condition. Mounting The Mallee Bull is strictly forbidden.
Although I am older than Big Red the sculpture, there was never a moment that he was not part of my consciousness. As a child born in Birchip, and then a frequent school holiday interloper, I, like most kids there, would laugh at its embarrassingly large balls, and laugh harder still at tourists taking photos of those large balls. Whatever the story of Big Red was, or whatever the reason for Big Red's creation, I, perhaps like many of those tourists and passers-by, was drawn to the absurdity of the structure itself and the paradoxes of its form that subvert its authority. I thought that the levels of affection generated for a bull mascot were strangely placed in a town not known for cattle farming; or, how the weight, strength and virility usually evoked through the image of a bull were curiously undermined by the cuteness of Big Red's puppy dog face; his flaring nose, furrowed brow, and back leg pawing at the ground, ready to charge, sabotaged by his strangely static, grounded body incapable of any forward momentum. Real bulls, of course, can be scary beasts to come across, but Big Red with his friendly cartoon eyes and passive fakeness, has a genial look about him. Big Red is going nowhere and attacking no one. And I liked it that way.
*
As a child, it was just as easy to believe that Big Red was always there as it was to believe that there is ongoing continuity to the places in my mind.
It's easy to think that The Mallee Bull, and by proxy, Birchip have always been there in this corner of Victoria.
But the story of The Mallee Bull and of the town of Birchip are tales born of settlement and colonisation, and it is important to remember them as such.
The almost flat and very low-lying area now known as the Mallee in north west Victoria is a relatively ill-defined region between the Wimmera and Murray rivers that takes its name from the wide distribution of mallee eucalyptus that grows there with other drought-resistant vegetation. The word 'mallee' or 'mali' derives from the name of the traditional owners of the land, the Maligundidj people who belonged to the Wemba Wemba language group of the Kulin Nations. In the second half of the nineteenth century, European settlers arrived and surveyors and farmers staked their claims on land, cleared large swathes of scrub to sow various cereal crops and started breeding livestock. The extremely hot and dry climate was no good for cattle farming, and pretty tough going for anything else, but the settlers slowly carved out livelihoods in sheep and wheat. Story has it that some cows and bulls from the early farms escaped into the scrub and eked out an existence for themselves in the landscape. Not being native to the semi-arid area of the Mallee, only the toughest and most hardened of beasts could survive. One bull in particular – Big Red – was rumoured to roam the area alone, terrorising anyone in his wake.
As with most myths, over time the new communities of the Mallee invested real emotions in the story of the Mallee Bull: after all they too felt toughened up by a landscape that they were not native to. The myth of these vagrant bulls gave birth to the local phrase, 'fit as a Mallee Bull', interchangeable with other idioms like 'fit as a fiddle' or 'tough as nails'. Quite simply, a Mallee Bull symbolised physical strength and a kind of invincibility produced by the landscape. It became a central way in which settlers in the region imagined and discussed themselves. This settler experience is emblematic of a pioneer mentality replicated across Australia and other colonised countries that pit the European immigrant in an ongoing struggle with nature. But to see it only through this earnest lens is to misunderstand the dry, self-deprecating humour at work in the use of the phrase 'fit as a Mallee Bull', which in part takes liberties at the expense of those the term is used to describe – often one's self. Quite simply, the phrase is used to take the piss. Likewise the iconography of the Mallee bull as seen in the symbols used for the Birchip-Watchem Football and Netball Clubs, on the sign that welcomes visitors entering Birchip, and in the statue of Big Red himself, humorously recognises and cherishes the absurdity in its very existence. People are fond of it and self-aware too.
*
To catch Big Red in the flesh – presuming you're in Melbourne – get on the Calder Freeway and drive North. Bypass Bendigo on the Calder Alternate Highway just north of Ravenswood, through Marong and keep going. At some point, about 90 minutes later you'll get to a town called Wycheproof. Instead of continuing on the Calder Highway, you'll turn left, just north of the town centre and adjacent to the Mt Wycheproof Racecourse, onto the Birchip-Wycheproof Road. Keep driving.
The Calder Highway is where our story of Big Red, the sculpture, actually begins. Linking Melbourne to Bendigo in central Victoria and Mildura in the north-west, the highway went through a series of upgrades in the 1970s and '80s. If it wasn't before, in this era it became the main thoroughfare connecting northern and southern Victoria. Better motor vehicle technologies and a dwindling population in the second half of the twentieth century meant fewer and fewer people were passing through town. Not prepared to stand idly by as Ford Falcon after Holden Monaro after Commodore after Torana and even after Chrysler Valiant passed the ol' Birchip-Wycheproof Road by, some particularly conscientious Birchipites put their heads together. And so they gave large, concrete form and new totemic significance to the myth of the Mallee Bull. There must have been some kind of 'spooky action at a distance' type of thing happening across Australia because in the '80s and '90s, like the newly minted sculpture of Big Red, other Big Things started popping up all over the place: The Big Pineapple of Woombye, Queensland; The Big Prawn of Ballina, The Big Bench of Broken Hill, The Big Wickets of Westbury, and The Big Tennis Racquet of Barellan, all in New South Wales; and, one of my personal favourites: The Giant Koala (because a simple 'Big' was not suffice) of Dadswells Bridge, Victoria.
Like in Birchip, these structures were often built to lead people into towns by-passed by highways.
But often they were merely built by businesses next to thoroughfares to tempt weary travellers into a quick pit-stop and the purchase of tea towels or teaspoons along with a scone and tea. It clearly worked because Big Thing statues became ubiquitous, and taking photos in front of whatever Big Thing became an expected part of all family vacations. But not all Big Things are equal, and as time wore on, and the novelty wore off, some people were left to ponder, what to do with that sick looking Big Lobster, that no-longer-orange Big Orange, or that definitely anachronistic Big Captain Cook? In states of disrepair and strewn around the countryside, suddenly these Big Things became a big problem. But not Big Red.
Big Red matters not because he is big, but because he is a bull. From the prehistoric to the contemporary, the idea of the bull has pervaded our language and culture: when we grab something by the horns, we're seizing the moment and confronting a problem; when we are like bulls in a china shop, we are aggressive and clumsy; when we call 'bullshit', we call out exaggerated nonsense; and, when we hit the bullseye, we are spot on or exactly correct. We might think about the Minotaur of ancient Greece, or look to the sky and see the constellation of Taurus; we might think about the water buffalo stories spoken of in Yolngu lore, or the cave paintings of Lascaux; we might think of the bull races of Indonesia, or the bull riding of Mexico; we might even think of Pablo Picasso and his self-portraits as a bull, or the strange formaldehyde suspended bovine bodies of Damien Hurst. Big Red evokes all of these things and simultaneously unsettles them. He becomes part of a world that is more than Birchip, more than the Calder, more than Victoria, more than settlement, more than the nation, or at the very least, different from what we think of when we simply think of kitsch, Australiana and Big Things.