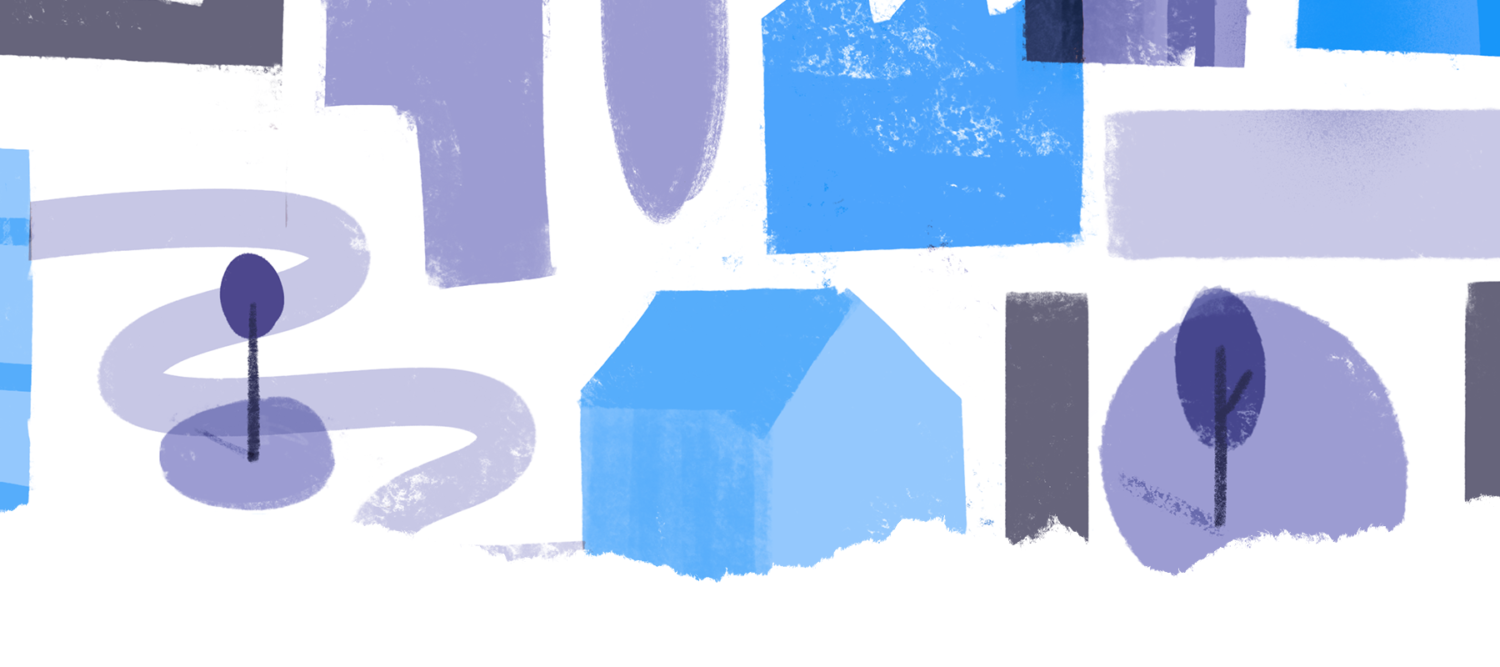 City of Dandenong
By Marta Skrabacz
Edited by Elizabeth Flux
---
In third-grade, my teacher Mr Collins asked us all to submit floorplans of our houses. I think we were learning about ratio and scale. While in hindsight this project seems sinister – why really would our teacher want us to hand in something so private, and why didn't my parents question this? – I submitted an A3 drawing of our house, newly-moved in, with descriptions detailing what we did in various rooms. Kitchen: cooking, washing dishes, feeding the dog. Bedroom: music, reading my books. Our concrete backyard was a work in progress and resembled a junkyard, so I wrote place where we put our rubbish, accompanied by drawings of piles of trash. Ma was very angry when she saw what I had submitted. "Why would you tell people that? Why would you want them to see this about us?"
*
Years before we'd moved in, Noble Park North had already assimilated and become part of the City of Greater Dandenong. Greater Dandenong's borders weren't strictly outlined, but it became greater in scope following the fusion of suburbs, with its innards, its encompassing suburbs, marked out by demographics and cultures. Springvale, our neighbouring suburb, had been amalgamated the year prior.
Like any city, Greater Dandenong is a containment of cultures, ideas and fiercely-held beliefs. The city sits on a snake nest that jealously guards the inner circle: those vipers in the bosom are the old Caucasian, Anglo-Saxon, whatever-they-want-to-call-it guard of the eastern suburbs who strike out at any discordance. For a long time, if you were different, they didn't want you. And they looked for any excuse to keep you out.
The further I got from the epicentre of Dandenong, the warmer I felt. Things changed; so did I. Madeleine Thien, in reference to Italo Calvino's Invisible Cities, says cities are subjected to memories and history and every other emotion; they're 'visible structures of the human condition'. They showcase triumphs, of course, but they also are sites of wounds and fear and unpleasantness.
1998 – Our House in Noble Park
Appearances were important to my parents. We lived in the largest house in our court. A two-storey, white chateau, of sorts: it had a pool, a front lawn and a backyard that Ma wanted to eventually convert into a living greenhouse. They framed a hand-stitched portrait of the Polish coat of arms, the white eagle with a golden beak, wearing a gold crown. Another wall was adorned with several silver icons of the Mother Mary. A few years later, my father put a brand-new Ford onto the mortgage too. For all intents and purposes, we aesthetically represented a wealthy family.
Not long after we got settled, my parents started working nights in the garage – a space they'd converted into a home-made electronic studio and warehouse – where they repaired timers in washing machines by the hundreds. I can still remember holding the foreign, brick-like object in my small hands: one would occasionally have small wires poking out of its metal and/or plastic shell, like weeds growing through soil.
On the corner of our court was a house that constantly generated whispers.
A new family moved in every few months. My mother and the next-door neighbour would sit at the kitchen table, drinking instant coffee, and gossip about the African family that had settled in recently. He is only there a few nights a week, the neighbour said. He has another wife, another family. Ma commented on the unnaturalness of polyamory, the immortality. The neighbour nodded, sipping her coffee.
My folks worked to keep up the illusion of affluence, whether intentionally or accidentally. Though we never went without, most things in the house were second-hand. I never thought anything of it. We went dumpster diving at our nearby Target. It's where I got my first alarm clock, fully functional, with a paint stain that I couldn't scrub off. They eventually put a padlock and chain on the dumpster at the back of Waverley Gardens shopping centre – to stop people like us, I imagine, bringing items back into the store, asking for an exchange without a receipt.
1999 – Books in Boxes
Most, if not all, of my books were what people would call 'loved'. Slightly tattered, creases in the covers of paperbacks, and that smell of old, decomposing pages. These books had collected dust in the homes of other people before they came into mine.
Our local op shop was a Salvos, housed in a huge warehouse on the corner of Jacksons Road. Ma bought books for us kids by the truckload from there. Most of them were Scholastic covers: some Sweet Valley High, the occasional Judy Blume, and many Deltora Quest titles. Eventually she got me the entire set of The Babysitters Club. In Keep Out, Claudia! (#56 of the Babysitters Club series), there's a new family, the Lowells, who have moved to Stoneybrook. Claudia Kishi, one of the original members of the club and part of the only Asian-American family in the small town gets assigned to babysit and is coldly received by the children. The next time Mrs Lowell calls to arrange a sitter she requests someone other than Claudia, keeping her reasons vague.
I didn't understand what had happened, even when it was explained quite clearly to the reader by the characters. In the book, the family pulls their kids out of performing in Fiddler of the Roof. Claudia isn't rehired. They don't even let Jessi (the club's one African-American member) through the door. Kristy, the club's president, is the one who finally figures it out, and explains it using a word that I had to look up – a word I only understood conceptually while finishing the book: prejudice. Kid-Kits and s'mores were easy to imagine, but #56 forced me out of the realm of imagination.
2000 – Smallgoods
Ma would park her old busted grey Camira on Langhorne street in Dandenong. Across the road I remember a police station, next door a costume shop, and a little more up the street was a bus shelter. The Wisla Continental, the Polish delicatessen, was located on this street too. The deli has cured meats and European delicacies, cheap packets of chocolate wafers we could guilt Ma into buying for us, tins of sardines that came in packages of blue, red or yellow, marked at .95 cents, and, krowki milanowskie – translated bluntly: milky cream fudge.
It became a weekly pilgrimage. Ma ended up knowing everyone within a few months of going there. She had a habit for getting people to talk about themselves, to share tidbits. She exchanged money for goods and they exchanged anecdotes for good will. She got recipes for making cured meats, cakes and recommendations for where to go to get specialised ingredients that the deli didn't have. We came here for the tastes of what we knew as home. "I want pączki," said my sister when we visited the Wisla. We knew everyone and everyone knew us.
2001 – The Market
The markets were – still are – the place to go for cheap(er) prices, for bartering with stallholders, for cups of unbelievably delicious hot chocolate. We visited almost every weekend. The main arena was large and loud. The floor was gritty, wet and stained, like there'd already been a stampede of people there hours before we arrived – even if we got there as soon as the doors opened. Italian men wandered around and into their shops and restocked the displays, while other shouted prices over each other: "Three cucumbers, five dollars! Best prices here!" Dotted throughout would be the occasional flower stalls, hosting buckets on the floor filled with pink orchids, strawflowers, fresh-yellow marigolds and chrysanthemums. We were part of the bustle of the market, one long snake of energy.
And then past the fruit and veg stalls, into the rest of the market, there were artisan and specialty stallholders. Folks selling honey, jams, Italian leather handbags and belts. One stall had t-shirts printed with celebrities faces lining wall-to-wall.
In the midst of that commotion, Ma always made sure to stop by Lee's stall. Lee was the owner of a frame and portrait boutique and, as we later found out, a skilled interior designer. She hired out a stall there every fortnight but also took orders for custom frame designs and delivery. Lee quickly became one of my mother's many friends, and, often, became a pretext for any defence against prejudice. Having an Asian friend was proof for Ma, that she was "not like the other Poles". Maybe she didn't realise how insidious she sounded.
2008 – Europa
I scored my first job through my mother's friend at a European fruit market in Dandenong. A place frequented by Italians, Serbs, Greeks and Poles, predominantly. I made friends with the other checkout chicks, Mui and Slavana. We regularly grabbed drinks after work, sat at the Pancake Parlour at the Glen and compared notes after being sexually harassed by the pigman of a boss.
Over the year that I worked there, I received a litany of visits from family friends who were delighted to see me. One was the mother of a primary school friend, Ms K. During one visit, a particularly busy Saturday, she made a beeline for my queue despite the line for Mui being shorter. When she finally reached the front, she told me she was so happy to see me. We chatted about her daughter and the weather, mostly casual remarks. Then she leaned in, her tone dropped in volume and told me, behind the counter: I'm glad you're here because I don't want to be served by them.
I could only stare at her: she spoke it, she transformed incivility into inhumanity.
I packed her bananas, shoving them hastily into a plastic bag, under the guise of the heavy foot traffic on a Saturday.
2018 – Rebuilding
I don't live there anymore. I left when I was twenty-one, moving eastward, inward towards the city of Melbourne. I forged a new blueprint, forgoing the one I grew up with back at home.
Greater Dandenong is (mostly) a city made up of migrants, whether Sudanese, Polish, Serbian, Bosnian, Czech, Vietnamese, or whatever. I lived there before the multi-coloured buildings came up, before they wanted form to reflect self. Before the project of transformation.
In the last six years, the City of Dandenong has undergone massive redevelopment. The municipal building sits parallel to the train station – now as a transportation hub – with ninety-degree parking lining the building itself. Its various layers are painted bright red, white and orange, a hint at liveliness. The library got a facelift. The street signs got replaced with shinier versions. For all intents and purposes, it is an open city. Or rather, it aspires to become an open city, and currently, shoulders the burden of that aspiration.