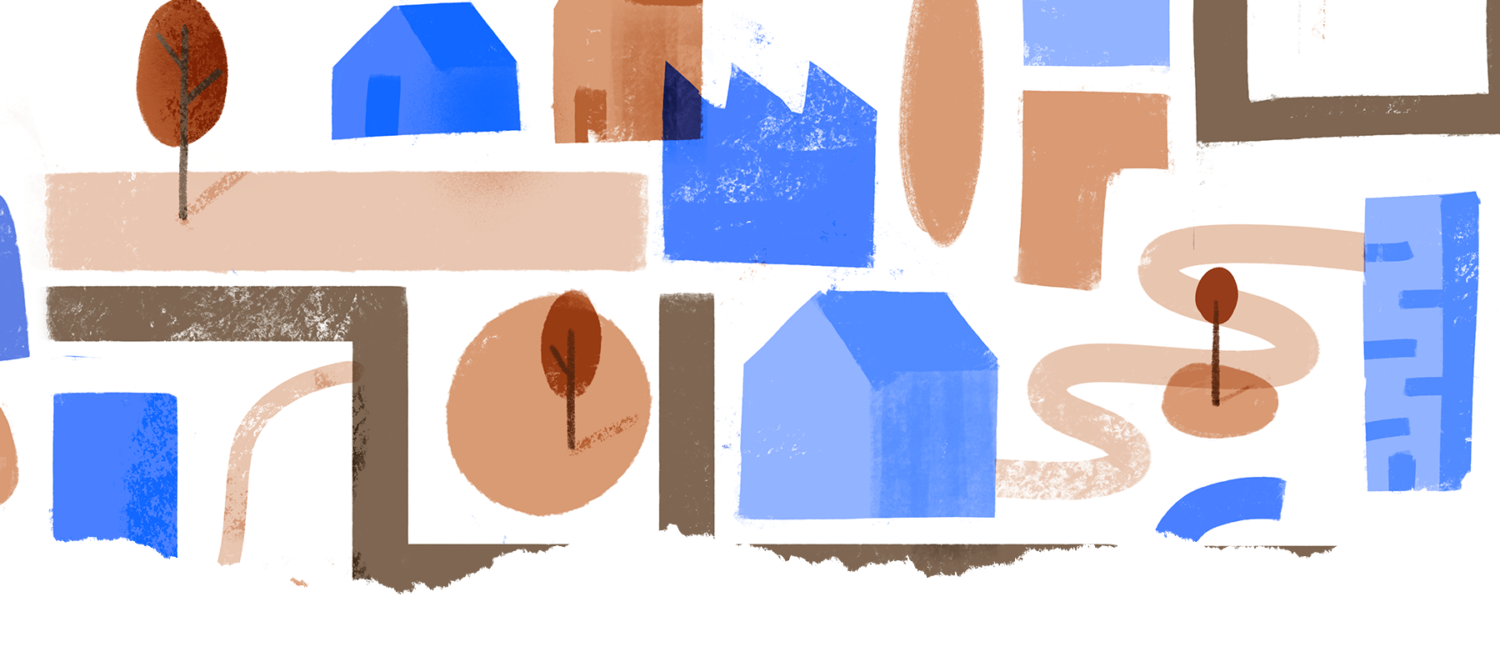 Fitzroy
By Nayuka Gorrie
Edited by Omar Sakr
---
The days before I left Fitzroy I tried to do all of my favourite things there. I'm prone to sentimentality and wanted to savour every moment. When I shaved my head at the start of the year I nervously went to Marios, my then local, hoping they wouldn't make a scene about my hair. The vested barista told me it looked good and quietly made my coffee. I had coffee and pasta at Marios, admiring the kitsch artwork that adorned their walls, the earnest photos of places around Fitzroy. I ate two different pies from Smith and Deli, spilling the hot mess of them on my shirt as I'd done countless times before. When my grandfather was hospitalised in 2011 at St Vincent's hospital, we spotted a bright café from his ninth floor room. We went down, fell in love with it; the South American books scattered around, the records playing old South American music in the background, the old indoor plants that they have inexplicably kept alive over the last six years. My brother worked there for nearly two years and was on the staff futsal team. We watched the owner's tummy swell with baby one and baby two. I had more than one breakfast (soy flat white with a vegan arepa) there before I left.
I recently moved to Brisbane. This isn't my first time living in Brisbane, I spent ten years there in my adolescence and moved to Melbourne at 21. It should feel like home, I've spent enough time there, but the hot and sticky country has become foreign to me. I might live in Brisbane but I don't feel it in my bones. I might live in Brisbane but when I texted a friend the other day to say I was heading back, I didn't say Melbourne, I said I was heading home and felt like I was cheating. I might live in Brisbane but there is a black duffle bag in the living room that has never truly been unpacked. I have been at the airport more times than I can remember this year. I am constantly in transit; maybe my heart isn't in a place, it's in the movement.
This transience is a childhood hangover.
One of my earliest memories is moving to Bundaberg from Gippsland and making our way up there on a cold Greyhound bus. In 1995, somewhere between the 1800 kilometres between Melbourne to Brisbane, my Mum had stepped out for a smoke and the bus briefly left without her. Not one year after that bus trip Mum and I were on another bus back to Melbourne to say goodbye to my great grandmother in Gippsland. One of my only memories of Nanny would have been an early 90s Christmas as a toddler playing near the old rusty water tank at the front of her house. She wore long dresses with high socks and slippers. I thought she might have been magic or a mind reader in the hospital when she was dying. I had just had a haircut the week before and somehow she knew I'd had one. A few days later Mum and I were back on another cold bus not able to attend the funeral for fear of violence.
The longest I've lived in the same house was four years. I never stayed at a school longer than three. I've never had a job longer than two. It is not surprising then that home is confusing. Home is not a singular vessel for the soul, in my case there are many,. Home is where I intend on being buried down the road from my great grandmother's house on the mission but it is also where the heart is. My heart is housed in the ribcages of a few others, but often I think I left it behind in Fitzroy.
Fitzroy is not my country. Fitzroy is Wurundjeri country. I'm Gunai/Kurnai, Gunditjmara, Wiradjuri and Yorta Yorta. We associate diaspora with people of colour (white people are "expats") who are not Indigenous to this country but I feel like it could be applied to First Nations people too. Fitzroy throughout post-invasion history has been a black diasporic centre. My mother's family is from Bung Yarnda (Lake Tyers). My great grandmother was stolen when she was eight at the lomandra filled mission by the lake and taken to an institutional wasteland in Parkville, ripped away from her family. She returned home when she was about 20 in 1952 with my grandfather, who had also been taken. Later on she moved once more because the government wanted to shut down Lake Tyers.
Home for her too was complicated and worse, out of her control. Her home was decided by men in suits in a government department office. I do know during those years between Parkville and Bung Yarnda she found sanctuary in Fitzroy. Letters my Mum has been able to collect from the State reveal that my great grandmother on more than one occasion would take off to hang out with sailors off of Brunswick St. I find myself walking along the cobbled back streets of Fitzroy, wondering if she too had walked the same paths. What did she wear? In the moments she stole from the state to take off to Fitzroy, was she having fun? I know she got drunk on wine for the first time there, and she wasn't the last Gorrie to get tanked on wine on a Fitzroy street. Did she enjoy herself? What did her drunk laugh sound like? Did the Fitzroy cobble stones ever catch her heel and make her lurch forward like they have to me? Did she ever share a shivery winter's kiss with someone at Carlton gardens?
When Mum was 19 she left my father and headed to Fitzroy to my grandparents' place on Best street near Piedimontes. It was cold and rainy and she had to convince my grandmother to let us stay. Their house looked like most other terrace houses. I don't remember much about it now; a long, narrow and dark hallway with items on the left that my grandmother was waiting to take to the op shop; a kettle, books, and clothes. Cold grey tiles in the kitchen. I don't know how long we stayed there but I know not long after that we were in Gippsland. My maternal grandfather Poppaduck had also spent much of his life on those same streets. He lived in the area for all my life. He worked in the city at the Department of Human Services and would catch the tram everyday to go to work. The 96 tram was decorated as a bee and for a few months one year every time I called him he would make jokes about buzzing along the 96.
In July 2004 Dad (not my biological father) left Mum and a few months later Poppaduck nearly died from an aneurysm. I flew down for the school holidays to look after him. We spent every day in the lounge room together watching Murder She Wrote and wrestling. I sat for hours using MSN, and tried hummus for the first time. Shops along Smith St were selling those "Jesus is my homeboy" shirts. That month I mourned my Dad but was grateful to not have to mourn my grandfather also.
Paternal figures, like houses, were ephemeral but my grandfather remained so we always came back to Fitzroy.
For safety we left Gippsland and lived across central Queensland and eventually hot and sticky Brisbane. We bounced from house to house but almost once a year I would visit my grandparents.
As a child the area frightened me. I never grew up around my biological father but the handful of times we did see each other it was often around Fitzroy or Collingwood where the Victorian Aboriginal Community Services Association Limited (VASCAL) was located. Pop was the CEO. He and my other grandfather were best mates. They would make jokes about who I loved more or who the better grandfather was. For years VACSAL was at the old bank building on Smith St near the Woolworths. It has an Aboriginal flag painted on the roller garage door that still remains.
I used to associate the area with knots in my stomach. I didn't grow up with my biological father around so any time we spent together felt forced. My father and I would awkwardly stroll around together and he'd introduce me to the fullas drinking on the street, "This is so and so, my cousin, this is my daughter Nayuka, she lives up in Brisbane with her mother. Yeah she's getting big aye." I remember one stroll we got a Bánh mí together and I was so anxious I couldn't finish the meal so I waited until I got home, then shoved it in my bag while no one was looking because I felt bad about an uneaten meal. I forgot about it until weeks later I was back in Brisbane. It had become a powdery light blue and black mould mess.
When I left my partner of six and a half years in 2015, it was Fitzroy I found myself retreating into. Like three generations before me, I found safety there. It was where my then nineteen year old mother went back to after leaving my father. It was also where my great grandmother used to take off to while she was still under the "care" of the department. It was where my grandfathers used to hang out together. Beyond me and the three generations before me, it has been a sanctuary for many others. Walk along Gertrude St and you can see the ghosts of the pioneering black organisations that were birthed there. It's where a lot of blackfullas have lived because before Gorman and Lune, it was all we could afford.
It's weird that an inner city suburb could be such an affirming place for Aboriginality. So much about those kinds of suburbs are in conflict with it. They are so built up, have little native vegetation, were some of the first suburbs to be built during early colonisation and increasingly are filled up with the white petit bourgeois. It is not the white people I see when I am there, though. I see my history. Sometimes I like to squint and imagine what places looked like before invasion. Sometimes in Fitzroy I like to squint and imagine my teenaged great grandmother wondering the streets or my two grandfathers going around together running amok. Now when I head back to Melbourne I only really spend time in Fitzroy. My brother and sister still live there but it is also where I left a bit of my heart. I go back to Marios and the staff tell me my hair has grown.